What is Aqualyx®?
Aqualyx® is a compound solution from the deoxycholate family that has been physically modified. By creating a slow-release sugar-based system, there are minimal side effects due to a reduction in its biological half-life.*
Developed by the late renowned aesthetic surgeon, Professor Motolese, Aqualyx® injections have been used in 49 countries around the world, with over 2,000,000 vials being used since 2009.
What do Aqualyx® injections achieve?
Aquaplasty™ or Aqualysis™ uses fat dissolving injections as part of a precise protocol to target localised fat deposits in areas of the body in order to liquefy the fat cell, destroying it. The lipids are then naturally eliminated through your body's lymphatic system.
Aqualyx® injections can be used in a number of places on the body, including:
Thighs
Saddle bags
Stomachs
Chins
Knees
It also works as an effective treatment against pseudo-gynomastia in men.
To assist in the dissipation of Aqualyx® throughout the localised fat cells, we can combine Aqualysis™ with an ultrasound device.
Aqualyx® injections are suitable for patients who want to avoid the more invasive options of liposuction or laser lipo treatments.
How are Aqualyx® injections administered?
For these fat dissolving injections, we make use of specially designed long, flexible cannulas. Two injections will be given to every area being treated. An anaesthetic solution is added prior to injection for greater comfort, and patients report good tolerance of the treatment.
Depending on the number of small pockets of fat tissue to be reduced, the injections are repeated between two and eight times, every 8 to 12 weeks.
It's perfectly normal to experience some level of redness, swelling, tenderness and skin irritation in the area treated for up to six days after Aqualyx® injections.*
 How quickly will you see results from Aqualyx® injections?
You should see a reduction in fat deposits after just one treatment of fat dissolving injections, with the optimal effect being visible after between three and eight treatments.*  The stability of your fat cell membranes will vary the speed at which you see a difference. Younger patients are likely to have to wait longer for the desired results.
For more information about Aqualyx® fat dissolving injections or to book a free consultation at our Newcastle offices, contact us or call 01782 615228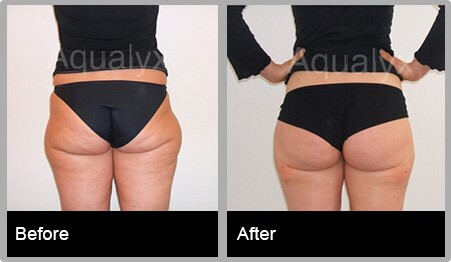 Please note we don't administer Aqualyx® injections if you're pregnant, nursing, suffer from lipodystrophy, pathological conditions or are under 18 years of age.

*At Swann Beauty, we try hard to provide the highest possible quality service with proper consultation for all our customers. 
Content on our website is provided for general informational purposes.
Comments about product effectiveness are based on customer results. 
All before and after results demonstrated may differ customer by customer and the result may also vary and depends on many factors.
Customers also need to adhere to the professional aftercare advice given to achieve the best possible results.