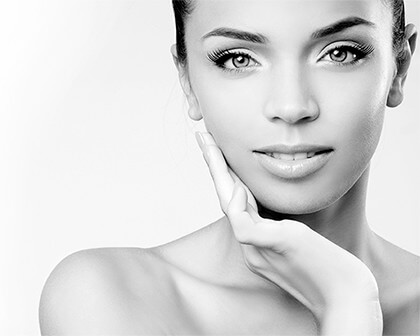 HIFU Facial
Here at Swann Beauty, we offer a range of beauty treatments for the face, body, and skincare and hair. Always on the lookout for new and innovative beauty treatments to suit our different clients, we have taken on HIFU, or High-Intensity Frequency Ultrasound, the non-surgical facelift.
Also known as an 'Ultrasound Facelift', HIFU has quickly become of the most popular treatments for skin lifting in the face and neck, leaving clients the tighter and firmer skin.
HIFU is a non-surgical, facial rejuvenation procedure. It is a non-invasive procedure and it is also a cheaper and safer alternative to a surgical facelift and neck lift.
The reason that HIFU treatment is so popular is that it offers noticeable results to the look of skin on your face and neck without the need for surgery. The ultrasound technology will focus on target areas beneath your skin's surface to pull and lift the skin, aiding the production of new collagen production to promote the tightening effect too. Collagen production slows down with the ageing process.
What is HIFU?
High-Intensity Focused Ultrasound treatment uses an ultrasound device to tighten and lift skin, to create a fuller and firmer look. The HIFU Machine is mainly used for the face – around the jawline, neck, and upper face areas – the HIFU device is a non-surgical alternative to the well-known facelift. The treatment penetrates the dermis and SMAS (superficial muscular aponeurotic system). HIFU reaches deeper into the skin than other non-surgical treatments.
By using ultrasound technology, you will achieve a natural and non-surgical lift and pull to your skin with the benefits of no scarring, no bruising, no pain, and no recovery time needed. The results are totally natural, which is why it's such a popular facial treatment with people all around the world.
This skin tightening procedure is typically a one-time treatment, with one session delivering visible effects to your skin and helping to create new collagen, giving you an all-round healthy and youthful glow.
Benefits of HIFU Facial
A HIFU has many benefits:
Fine line

and

wrinkle reduction

Midface and

body contouring

Nasolabial

fold reduction

Tighten

jowls

and

sagging

on the face and neck

Define the

jawline

Lift eyelids, cheeks and eyebrows

Smoother skin

Tighten the

decolletage
Who uses High-intensity Focused Ultrasound?
As a non-surgical cosmetic treatment that relies on ultrasound energy technology. HIFU is suited to patients who have mild to moderate skin laxity. HIFU is a natural process so its results vary from person to person, depending on a variety of factors such as skin type.
HIFU Facelift Side Effects?
This face-lifting and neck-tightening technology boast the previously mentioned benefits, such as no bruising or down-time. This means you can undergo the non-invasive treatment with minimal effect on your day-to-day life.
Patients may experience slight discomfort during the procedure. The feeling has been described as a light prickly sensation. However, aesthetic is available for this. After the procedure, patients may experience mild redness and swelling on the treatment area as side effects, although these reduce after a few hours.
When will I see results of HIFU?
To see the full results of this 'Ultrasound Facelift' requires time, but they can have lasting effects. The treatment can last for 6 months. As we've already said, results will vary from person to person. However, by following our professional aftercare advice for the treatment, it will help to achieve the best possible results for you. Full results can typically be seen after 90 days in the treated areas.
To find out more about our HIFU treatment here at Swann Beauty, please don't hesitate to get in touch for a free consultation.